Hospices and Care Homes
What you need to know
There have been several high-profile incidents in hospices where patients' lives may have been saved or their injuries limited if firebreaks had been fitted.
Patients should never be permitted to smoke while using oxygen therapy, even if they are outdoors. Birthday candles, e-cigarettes, or other sources of ignition and intense heat can also pose a risk and should be avoided.
Home Oxygen Service
Where a patient's oxygen therapy is provided under the NHS home oxygen service and installed by a home oxygen service provider (Air Liquide, Baywater Healthcare, BOC, or Dolby Vivisol), firebreaks will be fitted by the provider.  
More information about home oxygen fires in England.
Equipment supplied by the hospice or care home
When a hospice or care home provides its own oxygen concentrator, it is the hospice's/home's responsibility to install firebreaks in accordance with the instructions for use provided with the oxygen concentrator.
Where a hospice or care home provides other equipment (oxygen concentrators, liquid Dewars/units, or cylinders), it is required or advisable to fit firebreaks:
Firebreaks are required on all oxygen concentrator installations under the European Medical Device Directive (MDD)
Firebreaks are recommended for all oxygen therapy as a way of meeting the regulatory requirement to "reduce the risk as far as possible" and "take account of the generally acknowledged state of the art"
Healthcare establishments such as hospices are not strictly obligated by the MDD but open themselves up to liability if they use medical devices off-label
Enter your details to speak to a regulatory specialist
Oxygen Administration Kits for hospices or care homes
A specially designed all-in-one Oxygen Administration Kit with built-in firebreaks, which can be easily and safely fitted by a nurse or care assistant is available. The kits are pre-assembled and include a cannula (or mask if required), lengths of tubing, firebreaks and connectors, ensuring that hospices and care homes can deliver oxygen to their patients safely in line with the state of the art.
How to fit an Oxygen Administration Kit
Installation diagrams:
Concentrator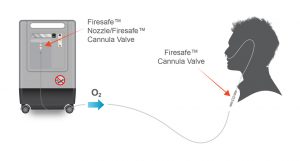 Cylinder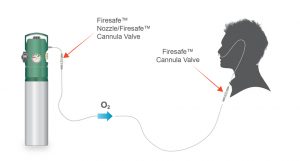 LOX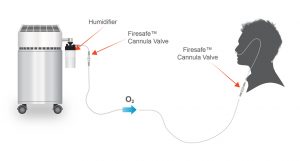 Portable Concentrator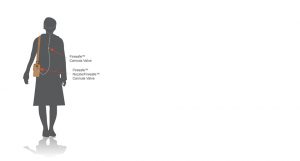 Wall Outlet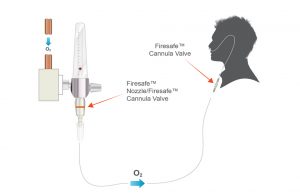 Visit our FAQ section for more information